I am happy to report that my little blog here has just surpassed
40,000 visits
I do this for the fun of it, to feed my genuine interest in
fashion, art, aesthetics
I am glad some of you enjoy it.
Here are a few headshots of me over the past year
to attach a face to the posts...
I thought I would here include a handful of albums that really
made an impression on me in my 'formative years'
that I am grateful to have grown up with.
Thx for stopping by!
Ram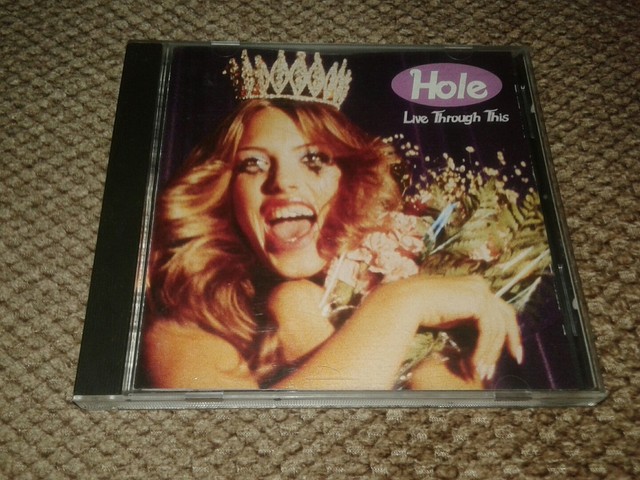 Hole's Live Through This album, released in 1994
I wasn't introduced to this album until Grade 7 in 1997
so it was a few years old already, but for 12 year-old angry/sad
or insecure girls it was really helpful
because the riot grrl / kinderwhore concept mocked
society's expectations of women & femininity.
In 1999 I went to Edgefest '99 in Barrie, Ontario
where Hole were playing. The above picture is from their performance the 1st day,
I went the second day.
I had a disposable camera and was wearing
an olive green floral skirt from Le Chateau, suede Airwalk sneakers
(before Payless bought em) & white tube socks.
I bought a powder blue Hole tank top w/ a fuchsia oval Hole logo on it.
That night I got pulled onstage w/ about 10 other kids while Hole was playing
in front of 20,000 people.
Courtney Love herself gestured to me and the girl beside me
and I went up to the microphone with her arm around me
and she gestured for me to sing a verse by myself
It was the 2nd verse of Doll Parts:
"I am
Doll Parks
Bad skin
doll heart
It stands
for knife
for the rest
of my life"
And then we sang the chorus together
"Yeah they really
want you
they really
want you
they really do"
So, yeah, Courtney Love & this album especially
had a big, positive effect on me as a girl.
Eight Arms to Hold You is the second full-length studio album
by alternative rock band Veruca Salt, released in 1997.
BIG deal for us in Grade 7. Incredible album.
Favourite songs then: Straight, Don't Make Me Prove It, Sound of the Bell,
and Earthcrosser.
Probably around Grade 9 I discovered PJ Harvey.
I'm not sure what set me off - I think it was a music video for
Down By The Water (1995) or A Perfect Day Elise (1998).
I walked into HMV in the basement level of the Eaton Centre in
downtown Toronto and asked a woman who worked there
which album to start with.
I guess Stories From the City had recently come out,
but she said "This is the real Polly though"
and she was holding Rid Of Me.
Rid of Me is the second studio album by English artist PJ Harvey. It was released in 1993, approximately one year after the release of her debut album Dry.
This album was huge part of many years to follow.
Every song was good - at the time Legs was my favourite
and I learned to play it on acoustic at my guitar lessons.
I would do a cover of it at parties in highskool
complete with all the insane moaning
like an animal mourning. Fun times.
Weezer's debut studio album "The Blue Album"was released in 1994.
Around Grade 10 I was close friends with a not-completely-out-yet guy.
For maybe 6 months there we used to hang out after school at his house all the time.
Usually we would bleach and dye eachother's hair and then cuddle in bed singing to
the last song on this album Only In Dreams really loud. This was around 2001.
"You can't resist her
she's in your bones
She is your marrow and your ride home
You can't avoid her
she's in the air, in the air
In between molecules of
oxygen and carbon dioxide"
Late in highschool I got into some of The Cure, mainly
Kiss Me Kiss Me Kiss Me, released in 1987 - 15 years prior.
I had found the tape used & bought it mainly for its cover (above) as I didn't know
anything about them. The visual concept w/ the title + many of the lyrics was about as
intense as I could often feel back then (tortured). The back view below:
"Kiss me, kiss me, kiss me
Your tongue is like poison
So swollen it fills up my mouth
Love me, love me, love me
You nail me to the floor
And push my guts all inside-out"
Easy listening!
Again, this is an album you can listen to like a saga --it's cohesive and all
the songs are good. My favourite songs then were: All I Want, Torture, & Fight.
Also I really loved Porl Thompson's guitar style on it.
(In researching for this I learned he has since transitioned
and is now a painter known as Pearl Thompson!)
I got introduced to Ani DiFranco around Grade 10 by who I thought was
the coolest girl in homeroom - Mira Berlin (real name). I still remember her
birthday (was Super into astrology back then) - July 24th!
I can't for the life of me recall which of the below albums I bought
first, but I collected the rest in quick succession.
Yup, I was a Huge Ah-nee fan for many years.
Not a Pretty Girl (1995)
Dilate (1996)
Little Plastic Castle (1998)
Up Up Up Up Up Up (1999)
To the Teeth (1999)
My favourite album is probably TTT.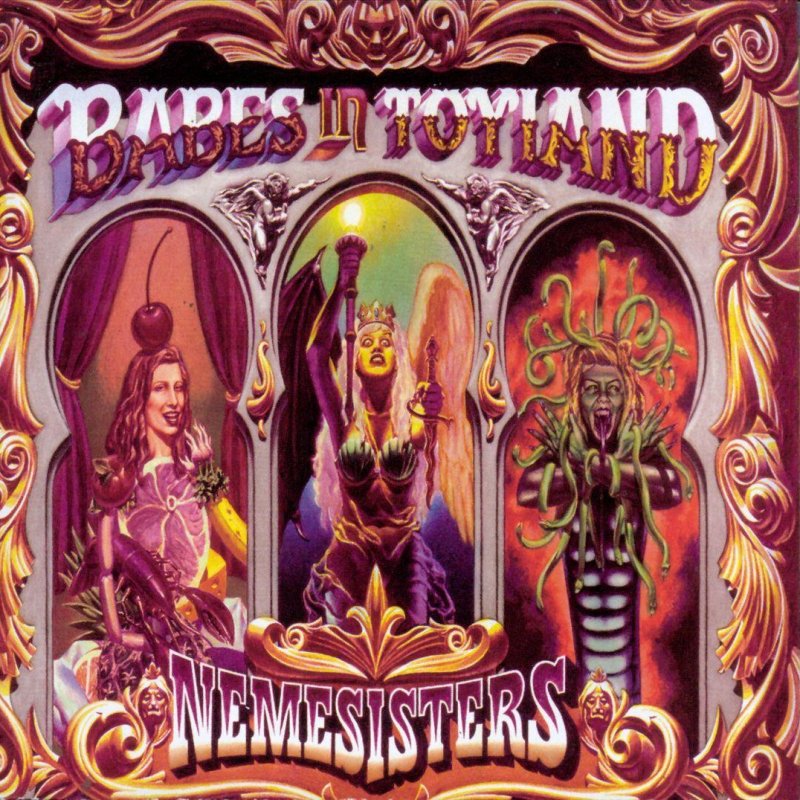 By the Final year of highschool in 2003, I met a guy who put
Babes in Toyland's song Bluebell onto a mixtape for me.
Then a little while later a girl from college burned me copies of
Fontanelle (1992) and Painkillers EP (1993).
Then I went out and bought Nemesisters (pictured, cover art by: Daniel Kalal)
Most all the songs are like nothing else that exists.
I recall Right Now and Mother from Fontanelle being preferred at the time.
Guitarist & lead Vocalist Kat Bjelland
--how could you Not be inspired by her power & defiance
just by doing what she wanted to do, and doing it well, not to mention loudly, in a man's world?
She would make men ashamed to sexualize her openly.