Catholic imagery
, ornamentation, colour combinations and iconography seem to be at the forefront of fashion lately. I think this has much to do with the biggest popstar in the world's frequent use of Catholic hearts, crosses, baroque-style Virgin Mary silhouettes and hairstyles. But I think religion's prevalence in fashion is also inspired by the elusive faith associated with street toughness/
gangs
, expressed through Chola style, which often includes religious tattoos and jewellery. Everyone seems to be attracted to a secret emotionality protected behind a ruthless/courageous exterior.
Skirt: Jane Marple

Above: Jean Paul Gaultier - from his unreal Spring 2007 Couture collection

wrapped hair w/ gold & red from Mcqueen's posthumous Fall 2010 collection echoes the flattened hair in Da Vinci's famous painting below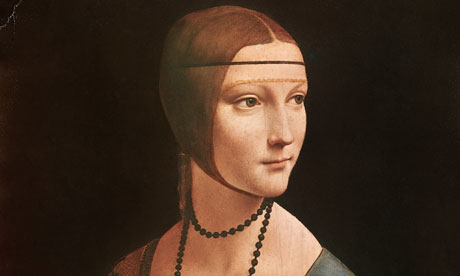 detail from Da Vinci s
Lady with an Ermine
, 1489
above: more from McQueen's final 2010 collection
Religious inspiration seems to go hand in hand with medieval royalty costume.
Below: Christian Lacroix - always straight out of a fairytale, Fall 2008 Couture
Below: more Gaultier from same collection

Amazing headdresses, many mimicking halos
Above: Alex Noble jacket w/ sacred heart worn in Gaga Judas video
still from Luhrmann's 1996 Romeo+Juliet. Gaudy, violent Catholicism at it's finest.
Norma Shearer in costume from Romeo and Juliet (1936). The detailing on her dress mirrors the religious Maltese architecture below
"The towns were scattered with catholic adornments, sculpted metal roses and sunbursts, Virgin Mary busts and different Saints on plaques to bless the houses. It all reminded me of Luhrmann's Romeo+Juliet, the churches covered with hundreds of electric bulbs to light them to the heavens were straight from a film set."
- photo & quote from prettymuchpenniless.com, click photo
Religious architecture to me is like attempting to bring faith to life, much like today with clothing.
D&G - Fall 2009
above & below: Jeremy Scott - Fall 2010
Jeremy Scott - Fall 2011 and for Adidas below
above: Emilio Pucci - Spring 2012
________________
For more of such:
http://fashionindie.com/when-i-find-my-self-in-times-of-trouble-mother-mary-vogues-for-me-15-photos/madonna-by-pierre-giles/#gallery
http://essaouiraetc.blogspot.com/2007/01/haute-couture-ete-07-jean-paul-gaultier.html
http://pocketfulofstarlight.blogspot.com/2011/09/film-inspiration-romeo-juliet.html